How to Engage Your Audience with Blog Posts
Whether you are a blogger, small business owner, marketer, or someone just trying to make a living, one of the best ways to make a success online is to improve your blog content. And here's why.
Blogs have many benefits.
With a blog, you get the chance to connect with your audience. You get the chance to provide real value to your audience. And best of all, you get the chance to engage and retain that audience.
So if you want your audience to complete a conversion or sale of any kind on or off your website, then you need to focus on your blog content.
But don't start throwing darts in the dark and expect them to stick.
With a blog, you need to have a plan. And with your blog content, you need to know what you are doing to set yourself up for success. And lucky for you, that's exactly why I am here!
If you want to engage your audience, and I mean really engage them, follow these 5 steps to improve your blog content today!
This post contains affiliate links. If you purchase a product or service with the links that I provide I may receive a small commission. There is no additional charge to you! Thank you for supporting TheContentBug.com so I can continue to provide you free content each week! You guys are amazing!
1. Start with a killer headline
Did you know that 80% of people will only read your headline? That leaves only 20% of people to read the content attached to that headline.
For people who produce blog content regularly, this is terrible news!
We need to work hard to get that 80% of people to look beyond the headline and click on the link to read the article we took time writing.
But how do you do that?
First off, DON'T USE CLICKBAIT!
You've seen those articles that say "She walked by a stranger on the street, but you won't believe what happened next". That's considered clickbait. Any article that forces you to click on the link to find out more, are considered clickbait. And you want to avoid these headlines!
And trust me, you can write a click-worthy headline without the clickbait! Some say that there is a formula to a great headline. And I'm not sure that's true.
But what I can tell you, is there are many elements that you need to think about when crafting that perfect headline.
And you want to know my top tip? I write at least 10 headlines before I decide on the one I use. Sounds like a lot of work, right?
Well, you'll be surprised that it's not!
Just sit down and type anything that comes to mind. And don't delete the ones you think are bad! Once you have at least 10, head on over to the CoSchedule Headline Analyzer.
This analyzer gives you a score for every headline you enter. And the score is calculated based on the words you used, the length of the headline, keywords, and sentiment. It will also tell you what type of headline it is. So for this blog post, my headline type is a How To.
And the best part? This tool is free!
So you can use this tool anytime you want to evaluate and re-evaluate your headlines to make sure that people want to click on them to read more!
It might take some time to get that perfect headline! But practice makes perfect. So the more you write killer headlines, the better and faster you will be in writing them in the future.
2. Stop writing in paragraphs
This is one of the best tips I can give to you as you try to improve your blog content: Stop, stop, STOP writing in paragraphs!
We are no longer in middle school, high school, or even college where you teacher grades you based on 6 sentence paragraphs that include an intro, 4 supporting sentences, and the conclusion.
Those days are long gone. So it's time to move on. Okay?
We want information that is short, sweet and to the point. If I see a blog post that is filled with paragraph after paragraph, I close the page immediately.
I don't have time to read chunk after chunk. And run-on after run-on. I want to be able to skim a blog post and know exactly what is it about. And then read more if I want to know more.
So break up your content a little bit.
And don't be afraid to only write one sentence before jumping to the next line. I do it all the time! It is best to have paragraphs that are a variety of lengths to break and mix up your content.
So don't be afraid to write a 3-sentence paragraph and then have the next one consist of only a sentence.
You do you! And your readers will thank you for not overloading them with a long chunky article that they don't want to read.
So forget about writing in paragraphs, okay?
3. Add compelling images
One of the easiest things you can do to improve your blog content is adding compelling images.
And this goes along with breaking up your content. Your audience doesn't want a 2,000-word blog post that is just more words after words. There needs to be images to either support or enhance your content.
And one of the easiest ways to do this is to create images that can be shared on social media.
You may have noticed that all my blog posts contain a Twitter/Instagram image at the beginning of the content, and a Pinterest image at the end. This makes it so when people go to share my articles, they have a nice image to support it! Ultimately enticing more readers to click on my article. (See what I did there?)
I also add images that either supports the content or shows you guys how to do something. And then I add a few ads in the mix.
So in the end, I am left with a blog post that is not only interesting but also visually enticing.
The next time you go to write a blog post, think about your image placement. And if you don't have any images to support the blog post, add social media images for your audience to share! This will go a long way. Trust me!
4. Don't forget to proofread
One of the last steps to improve your blog content is always proofread before you post.
There is nothing worse than realizing you have an obvious typo 3 weeks after launch. And if you have typos or obvious mistakes your audience may think that you don't take your content seriously. So why would they take you seriously in return?
So before you hit that launch button, make sure that you proofread and edit your post.
One of my favorite tools to use is Grammarly. And you have probably heard me talk about it before. But that's because I love it so much.
I run the Word spelling and grammar check and then I even edit the blog post myself. Then I run it through Ginger and the Hemmingway app. And the last tool I use is Grammarly.
And honestly, it catches more mistakes than I would like to admit! Without it, my blog posts would probably still be a mess.
But I do want to point out that this is just one of the editing tools that you need to use. Did you notice that I listed 4 other methods of editing before I got to Grammarly?
Technology isn't perfect. And neither are we. Different programs will catch different mistakes. So I encourage you to use this tool and also find other ways to edit your work!
And before you hit launch, sit at home and read your blog post out loud to yourself. This is the best way to see if your writing makes sense and if there are any obvious mistakes that need to be fixed.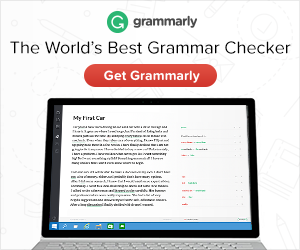 5. Keep your audience reading
Now before I leave you to enjoy the rest of your day, I want to share 1 last step to keep your audience engaged with your website.
And that is to keep your audience reading. Easier said than done, right?
Wrong.
At the end of every blog post, you get one last chance to keep the reader on your website. Whether you want your audience to keep reading more blog posts or maybe complete a conversion, you need to use this last chance!
You may notice that at the end of my blog posts is a Keep Reading section. This section showcases 3 related blog posts that the reader might be interested in!
PLUS, I also have a section for my readers to subscribe to my VIP team! So maybe if they like my blog posts enough, they will want to learn more information about how to make a well-rounded success online!
(And if that sounds like you, go sign up for my VIP email list below!)
Both of these are strategically placed to keep my audience reading and to complete a conversion. In this case, my conversion is my VIP list sign-up. (Seriously, just go sign-up already…)
So whatever you think is important, make sure you include a call to action of some sort at the end of your blog post! Don't just let your reader up and leave your site after they are done reading.
Keep them entertained, and keep them coming back for more.
Conclusion
Now it's your turn. Head on over to your website and evaluate your blog content. Are there areas that could improve?
Are your headlines cutting it?
Are you still writing in paragraph form you learned in middle school?
Do you have images in each post?
Can you find any mistakes?
And are you keeping your readers on your website?
All these are important to really engage your audience and keep them coming back for more. So go ahead and follow these 5 steps to improve your blog content today! And you'll start engaging your audience in no time!
How do you engage your audience with your blog posts? Let me know in the comments below!
---
---
Why, hello there! I'm Cathrin, the creator of The Content Bug. But since we are already virtual best friends, you can call me Cath. After working in the digital marketing industry, I decided it was time to share my love for online content creation, social media, and SEO with the everyday hustlers of the world… like YOU! You can almost always find me at a local coffee shop writing, reading and working on new things for The Content Bug. But when I have some free time, I love hanging out with my dog, going to a yoga class, and being outside. Stay connected with me on Pinterest, Instagram, and Twitter to see what I'm up to!